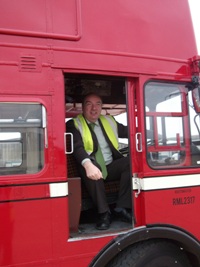 Transport minister and Lewes MP Norman Baker has taken time out from his ministerial schedule to try his hand at driving a bus.
Baker was in his Lewes constituency for the day and visited Brighton & Hove's new outstation at Newhaven before spending time putting the company's Routemaster, RML2317, through its paces around the Port.
Paul Carter, Brighton & Hove Buses' VOSA-approved driving test examiner took the minister through an intensive familiarisation session with the bus so he could get to know the controls and try his hand at reversing manoeuvres as undertaken on a formal PCV test.
Baker then took the bus on his own around the Port's private roads and was impressed with its handling and obviously enjoyed himself.
"He soon picked up the controls and was very eager to have a test drive," said Carter. "I was very impressed."
Baker has long had an ambition to drive a Routemaster and was thrilled at the opportunity to have a go.