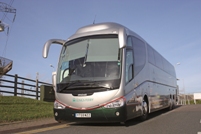 The Kings Ferry is launching a new commuter coach service in North Somerset.
The operator, part of National Express Group, is to run two commuter services to business areas in Bristol and South Gloucestershire, after being awarded the contract by North Somerset Council.
The services are due to launch in the Autumn and will be councilfunded for two years, with The Kings Ferry set to fund them for a further two.
Coaches will pick passengers up from Weston and Portishead, running along two commuter corridors at morning and evening rush hours. Currently 3,500 North Somerset commuters who travel in by car have few alternatives as there are no direct public transport services and limited rail options.
The Kent-based firm, which has nearly 30 years experience of carrying commuters from Kent into the city of London, is to supply four vehicles kitted out with reclining seats, air conditioning, drinks machines, TV screens and wireless internet. All coaches are also equipped with real-time tracking, allowing commuters to check the location of their service via web and mobile devices.
Last year The Kings Ferry saw a record rise in passenger numbers using its Kent to London service – taking the total number of passenger journeys to over half a million a year.
Danny Elford, The Kings Ferry Commercial Director, said: "Every year we've seen more and more commuters switching to the coach because it's comfortable, great value and you're guaranteed a seat. What's more, we communicate constantly with our customers, providing instant service information and traffic updates to ensure their journey to work is as relaxing as possible.
"We are certain this region has the fundamental elements needed for a successful service."
For more information visit www.thekingsferry.co.uk or call 01634 265 510