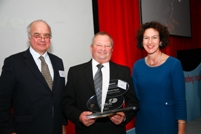 Awards are returning for their 17th year, with Trevor Owens winner of Britain's Best Driver last year
The UK Bus Awards 2012 is once again gathering nominations for Britain's best driver. The UK Bus Awards has reopened its website for nominations and is asking operators for their help in gathering passenger feedback.
The present UK Bus Awards scheme was launched as the Bus Industry Awards in 1996, and is running its 17th annual competition. The scheme is operated and financed by an independent not-for-dividend company, the Bus Industry Awards Ltd and is designed to provide positive media coverage, encourage and reward best practice within the UK bus industry.
To be eligible for the coveted title of Top National Bus Driver, entrants need to be individuals whose skill, personality and professionalism help them to give outstanding service to their customers.
The competition to find Britain's top bus driver relies on several elements: nominations of individuals who have impressed customers and/or employers, information and endorsement from the driver's employers, the consent of the driver concerned and a judging process in which a panel of independent experts scrutinises the nomination and the information provided by the employer. The judges then compile a short-list of drivers to go forward to the finals. At this point the shortlisted drivers will be checked by a 'mystery traveller' to check on the standards of customer service and professionalism delivered on the ground.
Speaking to CBW, Chris Cheek of the UK Bus Awards said: "We think the process of gathering nominations from the public is very important, it's always nice to hear from the public. It's a good service, as it helps to boost morale and it's important to have recognition for, what at times, can be an extremely difficult job."
Stephensons of Essex was so proud of its winning driver Trevor Owens in 2011, they put him an image of him on the back of one of their buses.
To nominate a driver or to read more about the judges criteria, visit www.topnationalbusdriver.co.uk Nominations close June 30, 2012.